Back in autumn 2017, for the first time we set a topic for our call: Democracy in Europe - what if we took the stage? What keeps democracy vital? How can we inspire political change and political structures effectively? How do we need to change our interactions in societies? How could we strengthen democracy together? What if we looked at democracy as "a work in progress" that we could improve? What idea would you try out? What does your idea for democracy look like?

Notes on the design: In our visual development, for example here in the key visual, we attempted to portray people from our network and behind the ideas that we promote, and to capture examples of the different perspectives and moods in a Europe of possibilities – for instance visionary, looking ahead, seriously dreaming, thoughtful, active, collaborative – in other words, diverse. We spoke about the image of a kaleidoscope that shows new possibilities and illuminates the stage for project teams from all over Europe working towards the future of the continent. This is how we set up the challenge plan: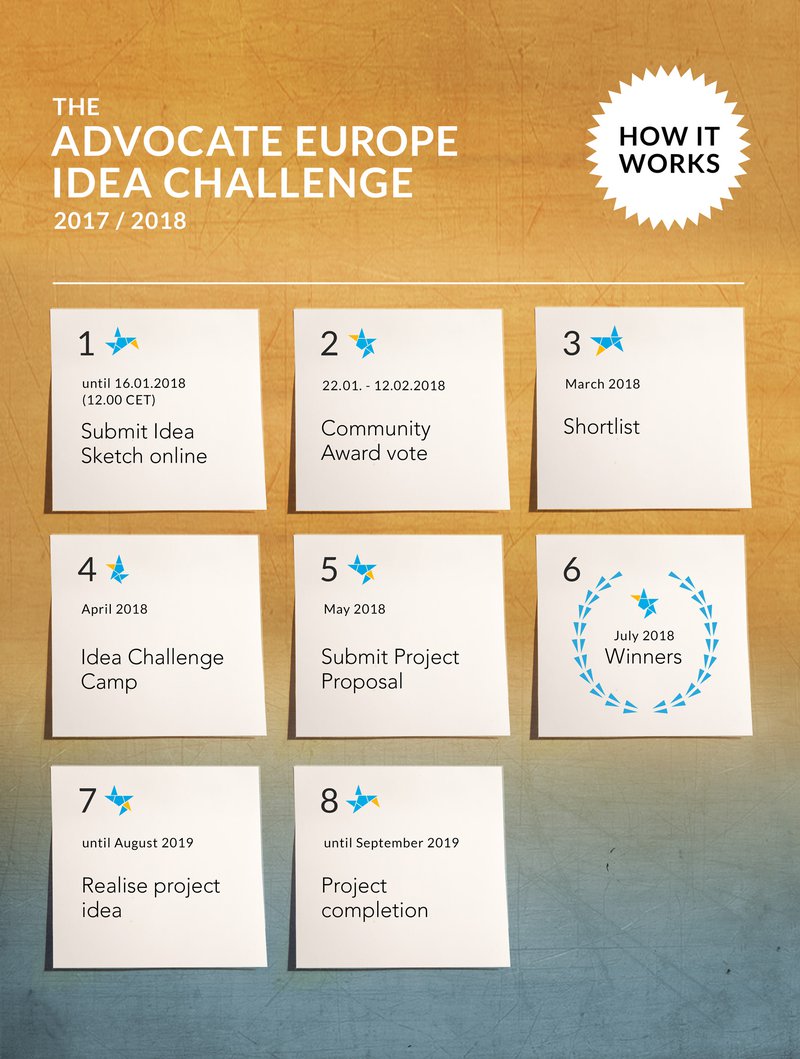 After creating an idea canvas for everyone to plan and prepare their idea, we opened our digital idea space on the platform...


By early 2018 we had received 475 idea sketches, short creative pitches as applications for new ideas on democracy, invented and written by civil society actors from 42 countries all over Europe. You can still read and discover, watch, filter and comment on all of them in our idea space.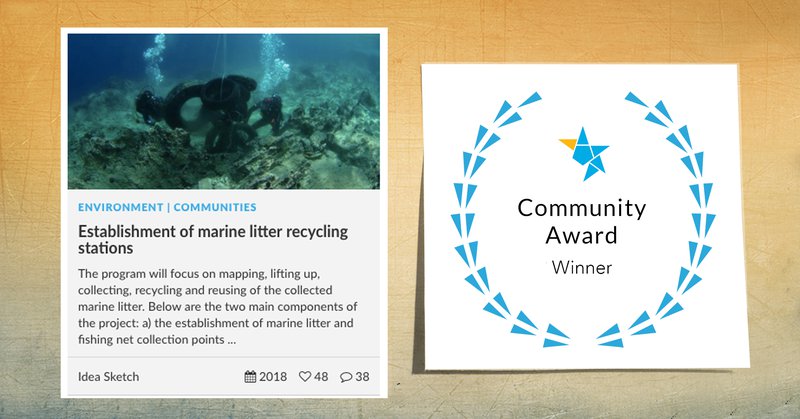 Out of all these ideas, our current and previous project idea proposers could vote for the Community Award. The project on the Establishment of marine litter recycling stations from Greece won the award, start-up funding and a place on our shortlist.

We were curious about what's going on with democracy in the different corners in Europe and tried to get a bigger picture. We mapped the topics, we captured voices on democracy from the applications and we painted a spectrum of our wide range of actors, all sketches are collected here. Together with our reading team, we rated the ideas for our shortlist of 31 ideas and thus the participants for our first-ever Idea Challenge Camp.


Who is behind these ideas? We met the 60 change-makers in Kyiv, Ukraine at our Idea Challenge Camp to work on their ideas, to think them through critically together, to prototype the ideas and to further develop the project design. The participants were able to refine their idea sketches into fully developed project proposals during May. We handed those proposals to our jury members who we met in Oberhausen, Germany, and who discussed and decided on the winners.

Now, we're starting to work with seven winning project teams. Read the winning ideas. Follow their journey and stay curious how they turn their ideas into action.