Click here for a larger version of the picture.
A map of our call's themes and patterns

Our applicants from all over Europe wrote about re-connecting, networking and innovating. About ideas on a local level scaled up to a European dimension. They want to create democratic spaces and safe places for democracy. In our call, we asked them to take local circumstances, what is going on in their 'corner of Europe' into account while keeping the bigger European picture in mind. To intervene wherever citizens find their impact is most relevant and replicable. While reading the answers, we thought about the local discourses and understandings of democracy.
The topics of the applications range from prototyping bottom-up decision-making processes to engaging with EU elections and voting mechanisms. The project makers advocate for women's rights and develop models for journalism's future. They use art to transform and drive democracy. Our applicants create spaces for participation and dialogue as well as strengthen a European public sphere. They evolve democracy in Artificial Intelligence and apps. The ideas enlighten and renew ways for sustainable societies and connecting communities in Europe. We tried to cast some of the themes in a map. Here are our impressions.


Voices from civil society on democracy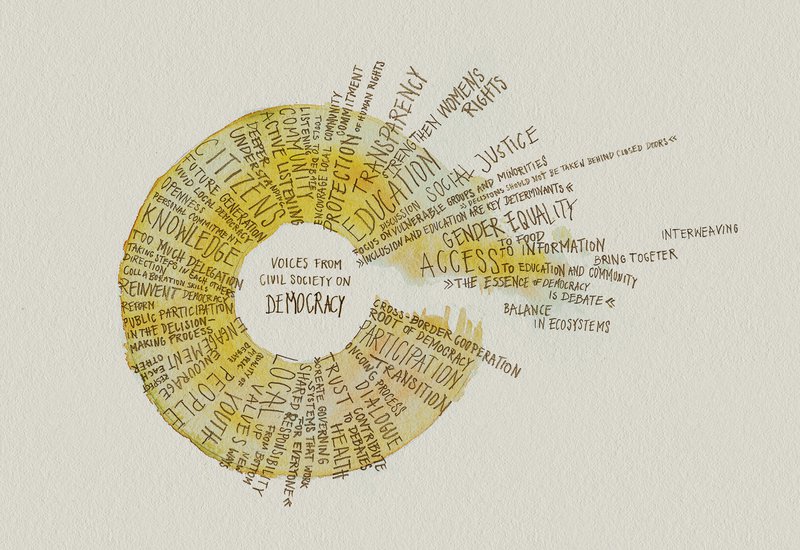 Click here for a larger version of the picture.
We read ideas that want to create, build, practice, debate, reinvent, delegate, contribute to and get involved in democracy. Democracy was seen as an ongoing process, a participatory approach, active listening, dialogue, as shared responsibility and personal commitment, as taking steps in each other's direction and forming alliances for social justice.
Democracy was associated with future generations, identity, knowledge, trust, education, transparency, access. It was interlinked with citizen and youth participation, local decision-making, protecting human rights and gender equality. There were ideas describing the root, the essence and key determinants of democracy, a set of values and skills and a way of living.
The spectrum of idea makers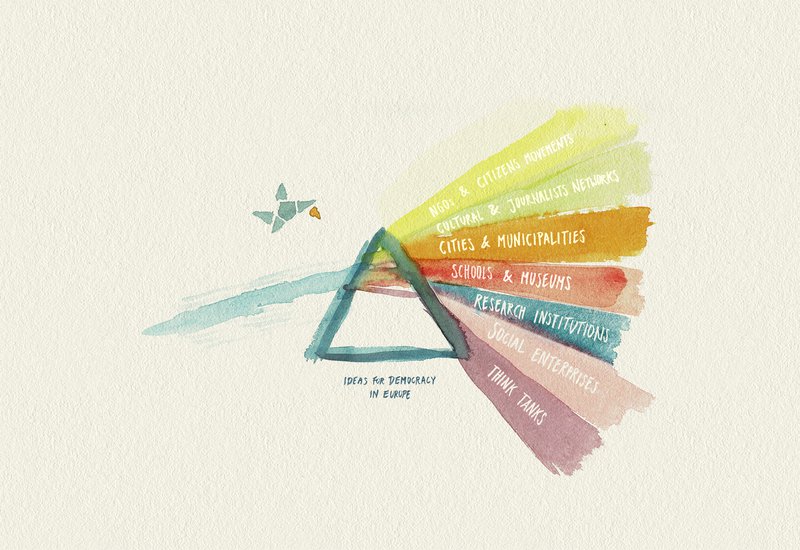 Click here for a larger version of the picture.
In our call we asked: What if we took the stage with ideas that spark and spread new ways of inspiring democracy? Here are the searchlights illuminating the leading characters shaping our call: the applicants. The project makers want to shape and influence the current state of democracy with perspectives from different fields and disciplines. They range from citizen movements, cities, schools and cultural networks to social enterprises, think tanks and research institutions. Thank you once again to all the project makers for sharing your idea on democracy in Europe.
 
All of the ideas are compiled in our open idea space for every reader to follow, comment and debate. The sketches were created by Michael Meißner with watercolours and graphite on paper.