Where the story started and where we are now: Back in November 2017, in our open call we asked for ideas that reshape democracy in Europe. Out of the 475 answers we received from a wide field of civil society actors, we gleaned a shortlist of 31 ideas and invited the people behind them to Kyiv. It was the stage for three days of sharing, challenging and growing their ideas and our understanding of democracy.
Debating democracy with 60 change-makers
Gathering our thoughts on what's happening in Europe that motivates us to act
"I asked myself, what are the values of democracy?... I'll keep on searching for the answer."
To get a broader view on our values and angles on democracy, we discussed it with the 60 shortlisted change-makers from all over Europe, framed by two questions: What's happening in Europe that motivates me to act? What are the potential tipping points for positive change and more democracy in Europe?
Setting up a gallery space to share 31 projects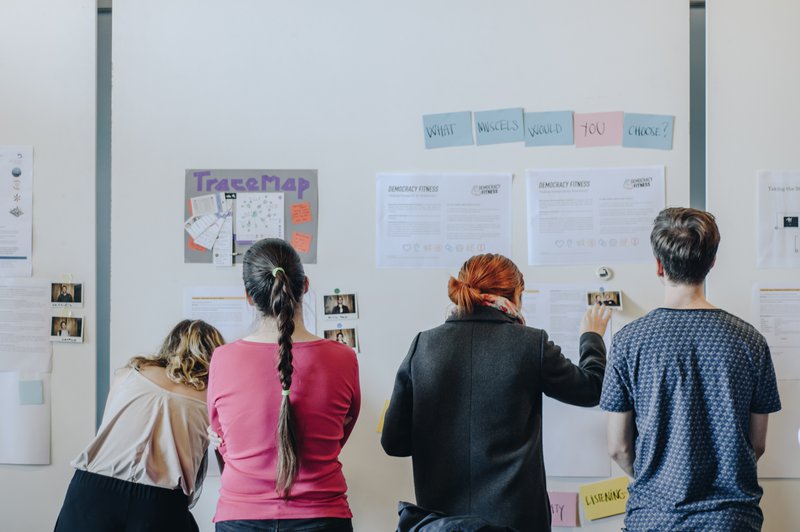 Creating and visiting a gallery of our shortlist
"Let's meet." We explored the actual ideas by setting up a gallery space to share, visit and comment them and to meet-up with other idea makers and learn about their projects. The shortlist's approaches on democracy range from interventions on women's rights to tax equality, from counter-acting fake news to piloting citizens' assemblies. They propose new voting mechanisms, building a progressive pan-European movement running for the 2019 EU elections and explore a community currency.
Navigating the impact of ideas
"It opened my mind for the complexity of democracy." While looking into the layers of the ideas and even adding new ones, we learned about complex systems as one way of seeing, understanding and influencing change. Another approach of deepening the impact of the ideas was to work with a canvas, asking: What change do you want to see and why? Who is impacted and how are you engaging them? Where and when does the change happen?
 Challenging and imagining the ideas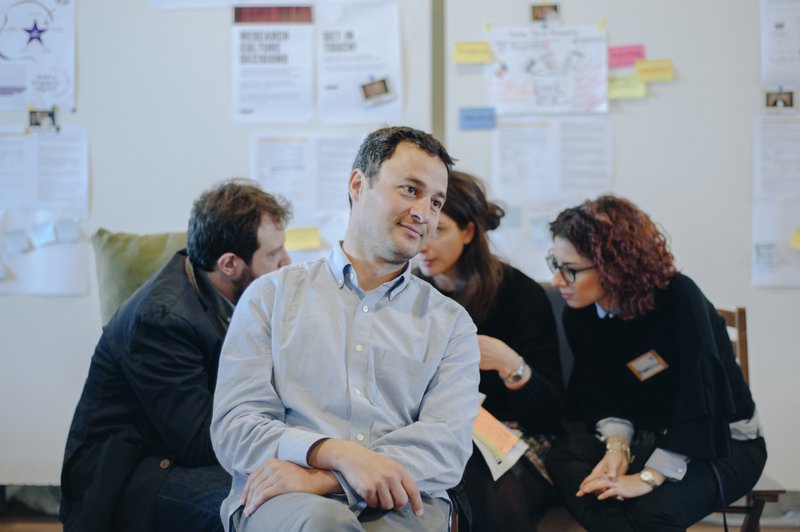 Session on rethinking the ideas by getting critical feedback
What happens if you share your project with three people and then turn your back and let them attack your idea? The session's instruction said to not respond to the critique but take notes, reflect, and breathe… and in a second round you'll share what inspires you about your idea and three people share what they appreciate about it. What could be possible when the idea is successful and scaled?
Designing prototypes of democracy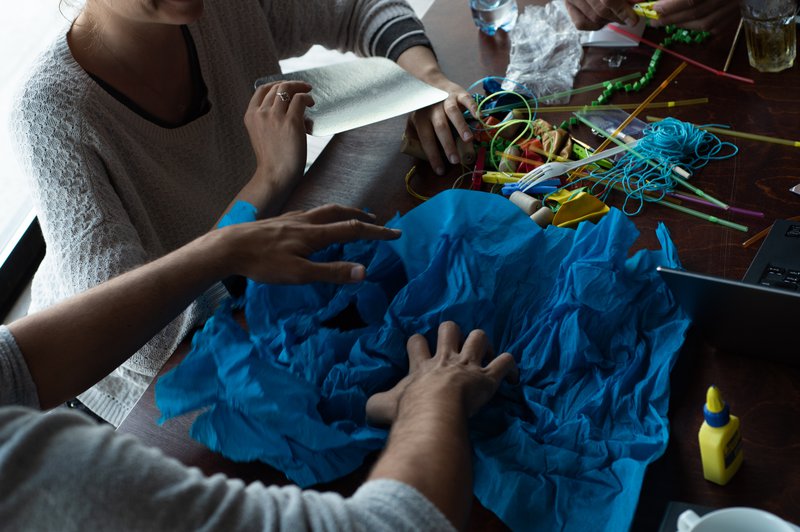 "When you are not sure – let your hands do it." - Hands-on experiments
"In moments of crises there are a lot of possibilities and experimenting."  Another experiment: a prototyping workshop where the idea makers dived into the ideas while designing them. The task: to merge two ideas of the call's shortlist and make them tangible in a physical model. To collaboratively compete in this challenge to improve the whole field.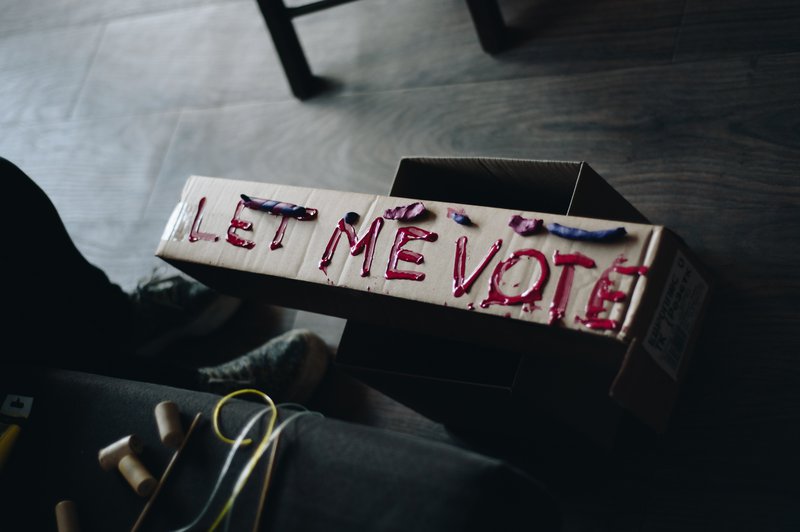 One of the prototypes in the idea designing session
Opening up a space for the community
And after challenging and celebrating the ideas, the space was open. The themes that came up included EU asylum policy, funding, privilege, corruption, community organising and how to develop technologies to empower political ideas. One group thought about how to inform people about the 2019 European elections, another one on "feeling" the local impact of the EU. People shared their tips on getting messages across and asked what skills or competencies it takes to be a European.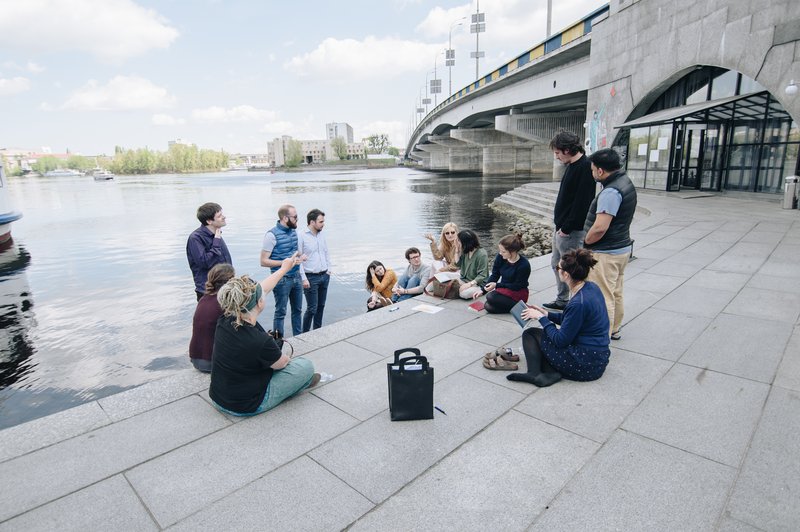 Open Space as community time at the Idea Challenge Camp
The people behind and the process to come
Where the way will lead after the Idea Challenge Camp: Now the idea makers have time to take what they learned at the camp and fine-tune their ideas. They'll put it into an advanced application during May, which an expert jury will proof in June. This summer, we'll announce the winners of our idea challenge on democracy in Europe.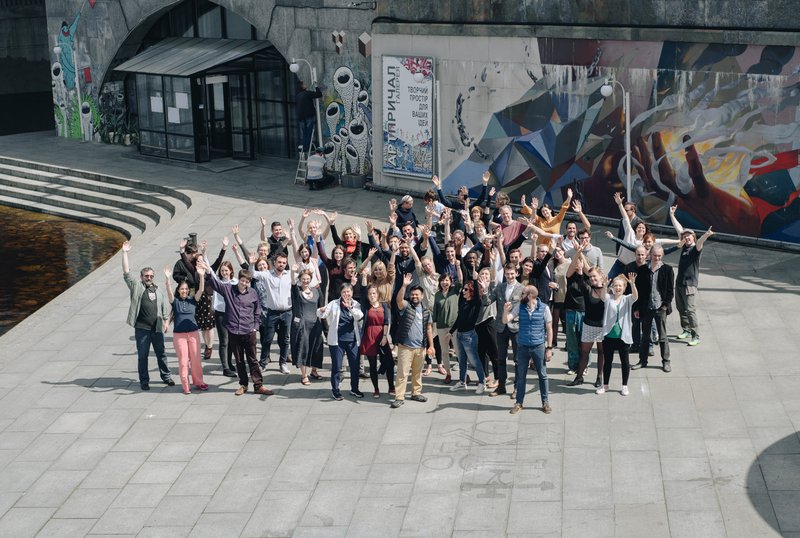 The people behind the 31 ideas on our shortlist
Behind the Idea Challenge Camp: Olga Zarko captured images of the event, see more on Flickr. The event was co-hosted by our alumni Iuliia Grubrina and Olga Sagaidak from Dofa.fund, Ukraine who won the 2016 challenge with "Transcending Borders." Together with Bhavesh Patel and our MitOst colleague Olha Kotska from Tandem Ukraine, we designed the programme and sessions. Watch the 31 ideas growing and give them your feedback in our Idea Space.