The steady Danish rain trickles gently onto the asphalt. The abandoned car park in Nørrebro in the north of Copenhagen shines black. From one side of the grounds, merry fragments of conversation reach the adjacent buildings and meet six people who couldn't be quieter. In front of a house wall painted with graffiti, they face each other in pairs and stare into each others eyes. Deep, even deeper, for one minute. Embarrassment flits across the faces here and there, revealing how uncomfortable the situation is for most people. Finally, Lise Tejsner saves the group. "So?" she laughs, "how painful was that?"


Fitness ­training for democracy


"The question is deliberate," Lise Tejsner and her colleague Helle Østerberg later say, "because what we do has to be unpleasant." The two are newly trained instructors for a special fitness programme. Instead of the abs, legs and buttocks, it trains the muscle groups that are needed for democracy – in other words, qualities that must be sought for effective and active participation in a democratic system. And just like sit-ups and squats, the effect only sets in when it hurts. As part of the Demokratidag taking place today on the former car park and the current hub of democracy Garage Park Nord Vest, the instructors put the "empathy" muscle on the training schedule. It's an important muscle because to empathise with others creates understanding and tolerance. Both are indispensable in a democracy.



"In many countries democracy is perceived as a given. But it's not. We have to take care of it, especially now that some are questioning it."
"Great, now you're warmed up!" shouts Helle Østerberg to the group. The participants listen attentively to her friendly voice. She doesn't need to use the whistle she wears around her neck. Next, she tells her protégés, the pairs need to communicate something physical. Hold hands, a shoulder massage, a hug. "When we touch for at least thirty seconds, we release the bonding hormone oxytocin," she explains. Pushed by the hormone, even strangers can thus begin to relate to each other. Oxytocin acts like a door opener for the empathy muscle. After the brief embarrassment, which is also common when beginning partner exercises in normal sport classes, the skies drizzle onto three pairs in close hugs a few seconds later.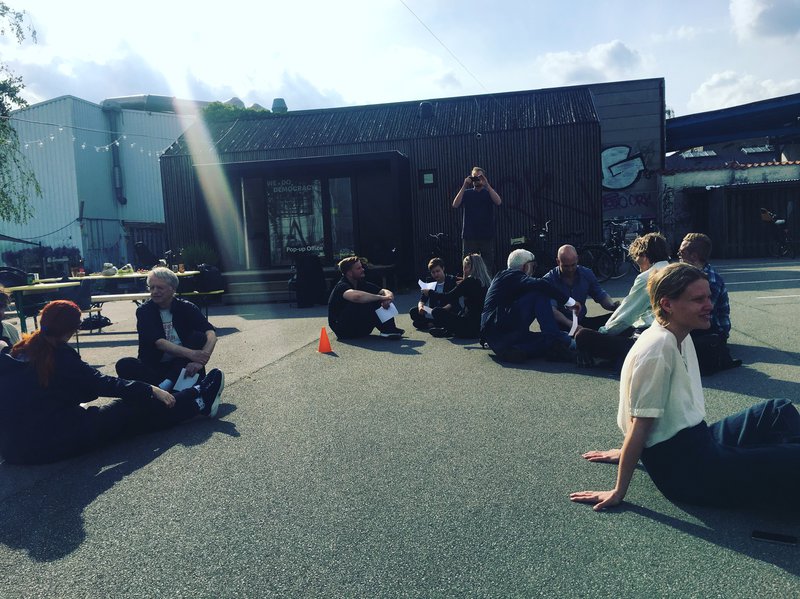 Participants of a Democracy Fitness training discussing at the new democracy hub in Copenhagen.


Just do it


Zakia Elvang has had a lot of these hugs. Democracy Fitness is the lively, light blue-eyed Dane's brainchild. She launched it in 2017 along with her colleagues Trine Demant and Kathrine Krone. Since then, the idea has spread across Europe thanks to Elvang, who is networked in the pro-democracy movement far beyond Denmark. In 2018, the idea also won the Advocate Europe competition, which promotes precisely this type of unusual project – a milestone for the three creators. Of course, the fitness programme itself also contributes to its spread: It is irresistibly simple, incredibly logical and also fun, which is obvious when we see how much the participants enjoy it. The reason the training is the way it is resulted from the goal with which it was developed. "We were looking for a way to strengthen the democratic awareness of a society as simply and broadly as possible," explains the activist. A lecture or a presentation wouldn't have achieved these results. "That would be too cerebral. We wanted something that got people involved, something active," she recalls, "something that turns this overly intellectual matter into a real movement." The muscle metaphor wasn't long in coming.

Meanwhile, the rain has stopped. Released from their hugs, all participants have pulled out their mobile phones. "Now use a search engine to find the image of a person you don't like or whose opinion you disagree with," Helle Østerberg says, introducing the next exercise. Some displays bring up a Danish politician whose new, very conservative party is dividing the country. Participants are asked to stare at the image for one minute then choose and read aloud quotes by that person. This is when it gets really painful. "Search for some aspect of this person that you understand or that you appreciate about him, and tell each other about it." At first the group is silent. You can almost hear the work going on inside each individual to somehow feel closer to the hated person. Finally they begin to share and with that comes empathy in the active attempt to understand someone and relate to their behaviour or statements. Tejsner and Østerberg are satisfied. They have tormented, but steeled their subjects.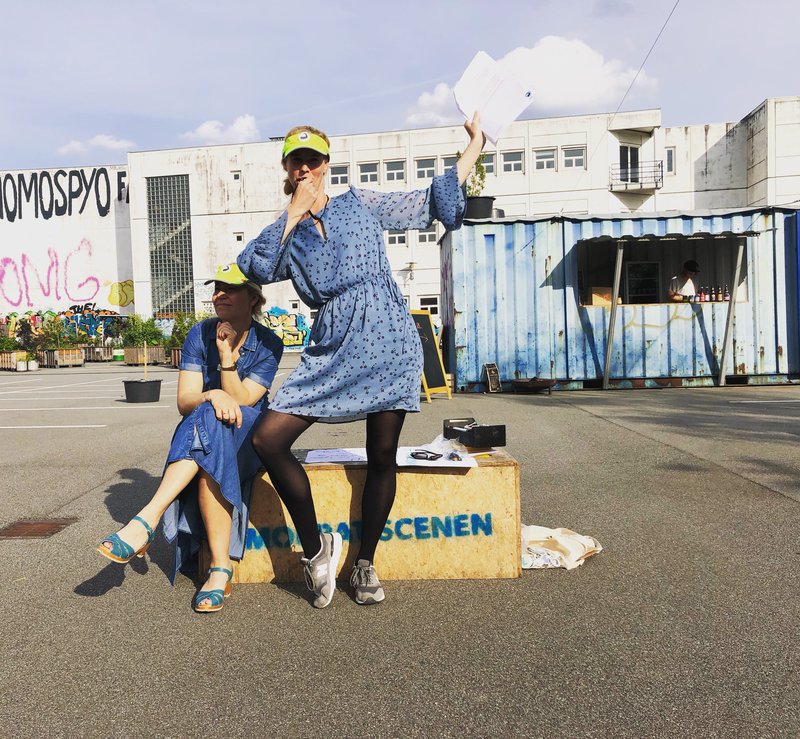 Trine Demant and Kathrine Krone hosting a Democracy Fitness training session at their new democracy hub in Copenhagen.
Happiness is a muscle, too


By the end of 2019, there will be about 2,000 trainers in 15 European countries. What they teach is relatively flexible. "In Denmark, we started out with eight muscles," explains Zakia Elvang, "for example, empathy, mobilisation, active listening and compromise." However, these muscles are tailored to the Danish social structure. Other countries can identify new muscles and develop a corresponding training programme based on their social needs. "In Estonia, they're working on developing the happiness muscle and the trust muscle in Latvia," reports Elvang cheerfully. The fact that the idea takes on a life of its own and is creatively further developed confirms its success. "In many countries democracy is perceived as a given. But it's not. We have to take care of it, especially now that some are questioning it." To do so, however, requires specific abilities that are already inside of us and merely need to be activated.


Mobilisation


Martha Norgaard is beaming. She just finished the "Mobilisation" training, the second Democracy Fitness exercise on Demokratidag. The task was to win over the person across from you for your own cause in thirty minutes – by assessing arguments, feeling out what matter is worth fighting for together, and negotiating a common position. Martha's cause is to free menstrual bleeding from its stigma; to make it something completely normal. At the end of the training everybody wants it, too. Martha cheers, half in fun and half serious, and hugs the young woman next to her.
As for empathy, this muscular exercise uses calculated casualness to activate the skills that keep society together: talking to one another and listening to one another. Martha Norgaard found the training challenging, "But that's common; getting along is never without difficulties. But we have to face that," she says. She's convinced that everyone in a society can contribute to its democratic functioning, no matter how small their contribution may be. The training showed her how easy it is to use your own voice. The inhibition threshold was lower than she expected; the issue was more important.


Zakia Elvang about the meaning of democracy festivals


Taking ideas out to the streets


The first hurdle, participation, is the critical point for the initiative. Zakia Elvang remembers the nerve-wracking beginnings. "In 2017, we started Democracy Fitness at the Folkemøde, the Danish democracy festival. There were more than 3,000 events there – a huge amount of competition." A megaphone and three plucky activists finally made sure that Democracy Fitness had its first success there. "That's where we passed the street test," says Elvang laughing. The real version of the programme, until then just a brainchild, also appealed to people who were enthusiastic about the training unit. "It was great that we got good feedback from very different people," continues Zakia Elvang. "To reach a broad target group is difficult, but that's exactly what we want."


Learning to encourage


In the year after the festival, as many trial training sessions as possible were held. At the same time, they began training instructors in Denmark and other European countries. Aspiring instructors learn what Democracy Fitness wants, how to identify muscles and how to encourage others to train them during a two-day camp. The coherently elaborated instructions for the 30-minute lessons were developed by the Democracy Fitness initiative. Many activists from the affiliated organisations WE DO DEMOCRACY and Demokratiscenen worked together on them. "Communication experts, consultants, teachers – we have a lot of consolidated expertise, which has made the programme as involving and easy as we wanted it to be," says Elvang.
Outside in front of the graffiti wall, Lise Tejsner grabs a jute bag and conjures a handful of buttons out of it. The badge with the flexing biceps marks the successful democracy athletes. While the small group scatters around the area, two women pin their badges to their rain jackets. Tonight they might be stiff and sore, but it will be from working their empathy muscles.
You want to know more about Democracy Fitness? Visit their website or follow them on Facebook or Instagram !


---
This articles was originally published in German on 07.06.2019 in AufRuhr - the online magazine of Stiftung Mercator. It was translated to English by Advocate Europe. All photos by Advocate Europe or with the friendly authorization of Democracy Fitness.