Tracing the journey of the Advocate Europe idea challenge and community of project makers from 2014 to 2019, our publication captures the impact we created, the learning we gained and the design behind our approach.


Found and supported by the Advocate Europe idea challenge, a combined digital open innovation process and civil society project incubator, these people co-create a "Europe of possibility": spaces and approaches that allow us to listen to each other, celebrate and live through the messiness of our diversity, as well as to experience dialogue and cooperation in the midst of this volatile, often harsh world. Handmade and created by a passionate civil society, this is the combined work of dozens of heads, hearts and minds.

To spread our publication, we decided to invite our community to co-create small local events in celebration of democracy and participation, once more spreading confetti of hope over Europe and putting theory into practice – because change starts with us.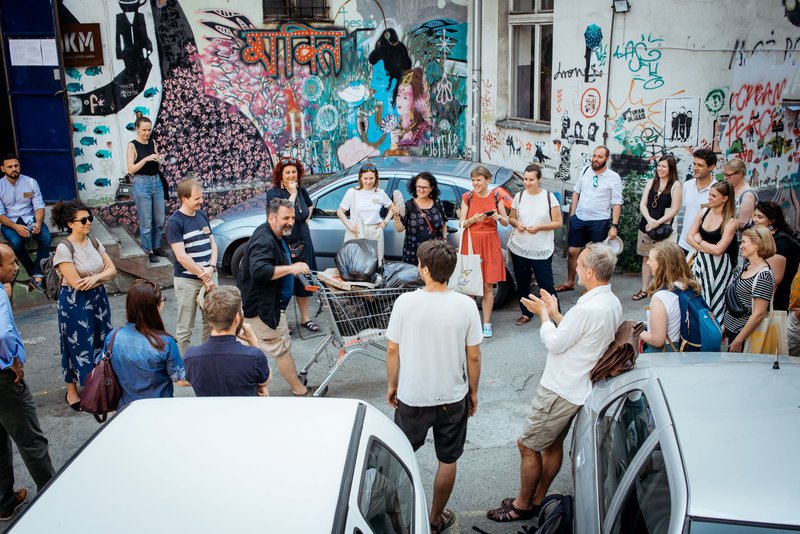 Celebrate with us and grab your hard copy of our impact publication!


Here is a list of the upcoming events where you will be able to pick up a hard copy of our publication. All events are free of charge and some of them open to the public. Please follow us on Facebook and Twitter for more information about the events, or contact the organisers themselves!


Schinias Wetlands National Park, Greece, end of October
Aegean Rebreath will be hosting a coastal clean-up initiative in the Schinias Wetlands, the largest and most important coastal ecosystem of Attica. The initiative will include clean-up activities and a sensitisation section on the importance of reducing the use of plastics and of proper waste management and recycling. The participants will also be trained on how to work together to implement the clean-up process.
This event is organised by Aegean Rebreath


Salzburg, Austria and the surrounding area, beginning of November
EscapeFake is taking their virtual augmented reality Escape Room to the area around Salzburg in rural Austria to teach youngsters about fake news in schools. Using the example of Syria, the workshops will also highlight the role that Fake News play in armed conflicts.
This workshop is held by Polycular


Berlin, Germany, November 7-11
The No Borders festival will include an exhibition with prints from more than 400 artists, screenings of documentaries about refugees, and debates about the current situation of refugee people in Europe. All the money raised goes to organisations helping refugees.
This event is organised by NO BORDERS refugees


Copenhagen, Denmark, November 9
The beginning of winter is the darkest part of the year in Europe. In order to celebrate togetherness and literally bring light into the darkness, a group of artists and activists will build a light installation together at the Garage Park community space and celebrate with the local community.
This event is organised by We Do Democracy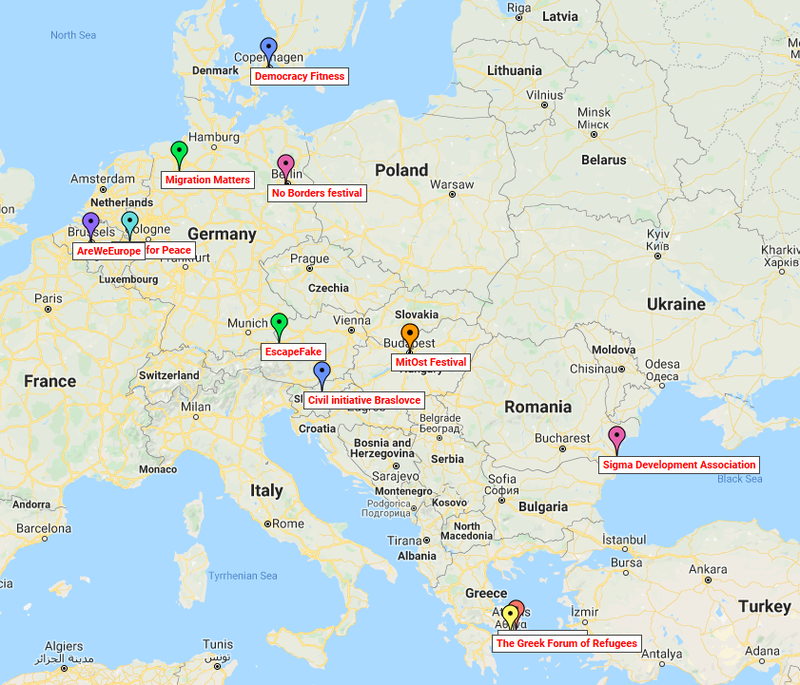 Aldorf, Germany, November 10
Thirty youths currently living in Germany, Greece and Sweden will practice their critical thinking by reasoning about what European values they appreciate and especially which values they consider currently underestimated in Europe. They will then turn their thoughts into creative custom postcards.
This event is organised by Youth for Peace in collaboration with Berufskolleg Alsdorf, Young Citizens of the world and Tjejer i förening


Athens, Greece, November 10
The Greek Forum of Refugees is hosting a roundtable that will bring civil society organisations such as Medecins sans Frontieres, Medecins du Monde, the International Rescue Committee and Terres des Hommes together with refugee communities to coordinate and co-create strategic planning for advocacy regarding social and political inclusion of refugees in Greece.
This event is organised by the Greek Forum of Refugees


Oldenburg, Germany, November 14
Migration Matters is holding a screening on the topic of populism and democracy with videos from Migration Matters' newest series, #rethinkpopulism at the University of Oldenburg.


Constanta, Romania, November 16
Hosting a space for community dialogue in the year that marks 30 years of the 1989 revolution. This event is an invitation for people to revisit events that happened in December 1989 and to reflect on the present political and social context, taking into consideration the challenges democracy in Romania had to face in the last four years.
This event is organised by Sigma Development Association

We are looking forward to seeing you there!

Anf if you want to know more about what happened in Brussels, Budapest or Braslovce , stay tuned, we will soon update you on these past events!