Julia-Maria Schröder, Photo by Panos Georgiou



How was the Kitchen on the Run project born?
My best friend Rabea and I always wanted to do a project together. So when we saw the Advocate Europe call, we decided our time had come. It was 2015, and many refugees were arriving in Europe. So we started thinking: Well, when the refugees arrive, they are put into shelters, they have access to medical care – but how do they get to know the locals? And how do the locals get to know their new neighbours? So we thought: We'll just do it like we do with our friends: invite everyone to cook and eat together.
We also wanted to have fun and be able to travel around Europe and connect with different communities. So we looked up what countries had taken in the most refugees in relation to the population. In 2015, it was Italy, France, the Netherlands, Germany and Sweden. That's is how the tour was born!
From March until August 2016, we travelled from the South (Bari) to the North (Göteborg) of Europe with our mobile kitchen container, cooking with refugees and locals 79 times.




We thought: We'll just do it like we do with our friends: invite everyone to cook and eat together.

What challenges did you encounter and how did you overcome them?
We didn't encounter big issues while putting the project into practice: Everything went very smoothly. Our biggest challenge arose after we came back from our tour. What we had planned as a project with a fixed end had become so successful that we had to find a way to keep it going. But there was no money, no time, no energy left on our side. That was the biggest challenge: to try to make the right decisions in order for the project to continue.
We used the final months of 2016 to write our report and submit funding applications. We turned the European into a German project and were able to convince the German Federal Office for Migration and Refugees to fund us for another year. So at the beginning of 2017, we had a project to hand over to a new team, we gave them the container keys… and that was it! Now the Kitchen Container is travelling through German municipalities without us.




What did you learn?
So much! (Laughs) I learnt that the magic of getting people together works everywhere in Europe. And that even when people doubted our idea was going to work, they immediately noticed when they participated: it works. I also learnt that there are so many people in Europe, with or without a history of fleeing or migration, who want to get to know each other and are ready to do so without prejudice. Or who are ready to reflect on this prejudice. I also learnt that even after the 75th cooking evening, something new always happens, it's never the same. I learnt how to load and unload a container with a crane in five different countries. I have learnt so many new recipes from the entire world. And that you can't write down a recipe while learning how to cook a dish! (Laughs) And I also discovered all the stereotypes and prejudice I had myself, and noticed how often it just doesn't match reality. How easily the stereotypes were undone. It was disturbing to notice how deeply anchored this prejudice can be – but it is up to us to deconstruct it! And finally, it was another confirmation of how diverse people are, think, act and react.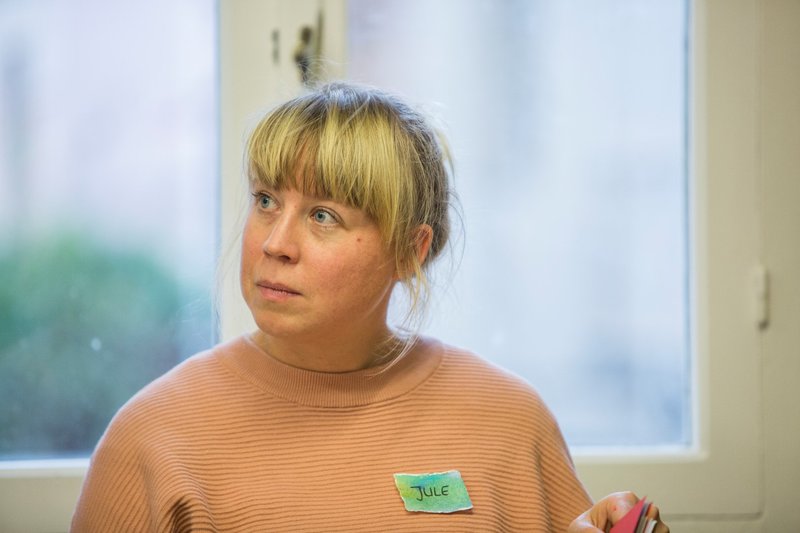 Julia-Maria Schröder, Photo by Panos Georgiou




So you had no experience working in projects with refugees before?
No… We wanted to join a similar project in Berlin to experience once how they do it, but didn't have the time. So the very first time I met a person who had fled their home was in Bari, in Italy.



How do you pull off such a project without any previous experience? What is the crucial element to get to the locals and to the refugees and to bring them together?
The first week at a new place was always the most difficult. I must say it was relatively easy to get in contact with the refugees; there were camps everywhere back then. So what we did is just go to one of these camps, hold a little information event and already 50 people knew about it. Then we worked with cooperation partners on-site: NGOs, civic initiatives or activist groups working with refugees or migrants. We also used social media a lot: just advertising our project over Facebook pages and in groups. This actually worked very well! The rest just happened through word of mouth and after a week, the cooking evenings were usually always full. We had five cooking evenings per week with more or less 25 participants each time.


I think I can say that the container itself contributed at least as much or even more to the success of the project than the human organisation we offered.



What is interesting about the Kitchen on the Run project, is that it is still running without you or Rabea. How do you manage such a transition? How do you "give away" your own project? Or are you somehow still involved?
Yes I think, I can now say we aren't involved anymore! (Laughs) Not with Kitchen on the Run. Rabea and I we are still active in the Über den Tellerrand NGO, the umbrella organisation that Kitchen on the Run is a part of. Rabea is engaged in the local group in Munich and I moderate their strategy days four days every year in Berlin. But we are completely out of Kitchen on the Run. And this just happened because at the end of the tour, we were all convinced it was great and it should continue, but how? The funding had run out, we had all already planned our next jobs or projects. There was also some kind of closure inside of us. We had been preparing for this to end after a year. That's why it didn't continue immediately. If someone had showed up and said, "Hi, here's money for the next two years," we might have continued. I don't know. So when the new funding finally arrived in 2017, all of us were already busy! So we searched together with Über den Tellerrand for people who could take up the new Kitchen on the Run summer tour that had become a German edition.


Where there any unexpected learnings or events? Something that surprised you?
None of us could have predicted how much the kitchen container – in its design – contributed to a nice, human atmosphere. This place that we carried around with us is just so flexible and modular; very practical, but also very beautiful at the same time. I think I can say that the container itself contributed at least as much or even more to the success of the project than the human organisation we offered. The space was open, nice, warm, welcoming. I still somehow feel very connected to this container. This also shows the power of design, architecture and technology in bringing people together. The container we had was the result of a collaboration with an architecture professor from TU Berlin. The design of our travelling kitchen container was the topic of their seminar. The result in the end was a mixture between different student projects that created this masterpiece! (Laughs)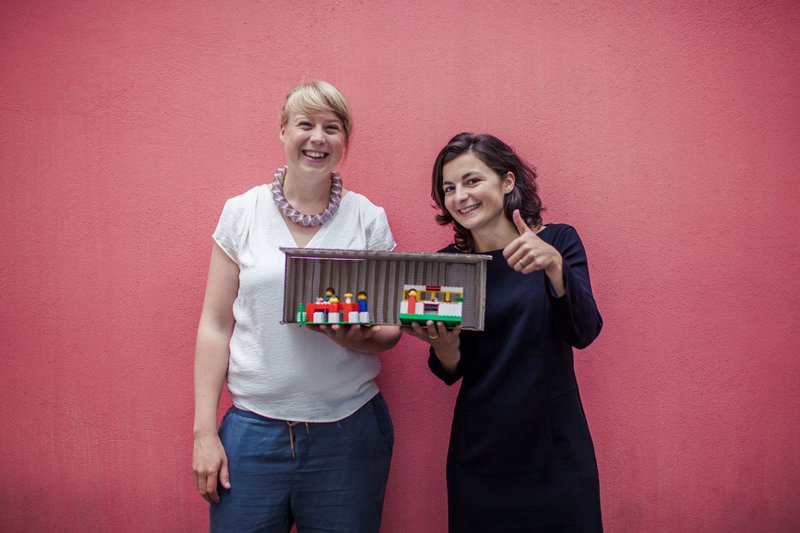 Julia-Maria Schröder and Rabea Haß. Photo Credit Shooresh Fezoni



What did you take away from this project to further projects or experiences?
For me it was the first big project that I set up and led myself, with few people but with a big output and impact. I gained a lot of confidence in our ideas and in our capacities to organise things – because, somehow everything just worked according to plan. That is a very satisfying feeling. What I definitely learned is that when you have an idea that most people think is crazy – like travelling through Europe for a good cause – that you should just do it. That we should try and put more of these "impossible" ideas into practice.