How did RISE – Refugees' Ideas and Solutions for Europe – start?
During my university studies in Stuttgart I was volunteering for several refugee organisations and I was approached by some European colleagues who were doing some research. Some of them were members of the RISE network, from the Greek Forum of Refugees and other countries, focusing on different topics, such as housing, labour market integration or policymaking. They were searching for someone to help with translation and I volunteered because I was already doing that. And this is how I met the members of RISE; there were already more than 20 members from 15 countries.


What is RISE?
RISE was started by the head of the Greek Forum of Refugees, Yonous Muhammadi. He saw that the topic of refugees was pan-European, not limited to single countries. So he applied to the Advocate Europe idea challenge and invited others to join. The idea was to bring the refugee-led organisations together to build a network, learn and exchange about the different contexts and how to support and empower each other in order to better help refugees all over Europe.
At the first meeting, five organisations came together. After that, it flourished. More and more people joined. The Advocate Europe funding gave us the opportunity to build this network, to inform people from the different countries – those already active in refugee and migrant support work – about emergency cases, about integration, the legal issues, many very different topics.
During the first year, there was a huge improvement. Some of the people were already active but didn't have registered organisations. I was one of those. I moved up from being an individual supporting member to co-founding my own organisation. Before RISE, there was no Refugee Council in France. Now, there is one and it was established by individual supporters that were empowered and connected through the RISE network. We have another similar example in Norway: a network member was inspired by the input and example of other RISE organisations and founded her own organisation of refugee women in Norway simply by knowing what and how others do it in other countries. All of the RISE members, I think, also dramatically increased their knowledge of refugee and asylum law and policies.
And although the funding from Advocate Europe stopped after one year, the RISE network is still active. People are in contact with each other and connected to ECRE and PICUM, the organisations active in Brussels. We inform each other. The Advocate Europe funding was a kick-start for RISE.




"None of us gets money. Projects are funded, ideas are funded somehow, but our work is not. Somehow there's this practice for many funding institutions that the work should be done voluntarily."



What is RISE doing now?
Unfortunately, because of the lack of funding, we haven't been able to organise another physical meeting. Most of the refugee-led organizations are operating on a voluntary basis, even in their own countries, at the local level. At Female Fellows, for instance, we have more than 100 volunteers – including myself and the core team members. None of us gets money. Projects are funded, ideas are funded somehow, but our work is not. Somehow there's this practice for many funding institutions that the work should be done voluntarily. We, for instance, can offer a lump sum to our volunteers paid by the city of Stuttgart. But this is usually not the case. And in the other countries it's the same – the work is almost never paid. I used the example of Germany because here the funding facilities are much bigger than in most other countries. The lack of funding is why it's so difficult to organise another meeting. But what we achieved when we met – the vision, the mission – is still pursued now.
And although we haven't yet managed to have a RISE meeting only focusing on our network, some members still meet on other occasions. For instance, a group of RISE members were invited to the AGC in Belgrade, the annual meeting of ECRE together with UNHCR. We were invited as speakers, to take part to round-tables: RISERS had active roles. We are often contacted and invited to give input on those topics, for example on the active role of refugee-led organisations. This shows RISE has gained recognition as one of the primary references when it comes to these matters. Furthermore, RISE has a voice and is known at the policy level, in Brussels, through PICUM and ECRE. Whenever RISE is mentioned, people know it is the refugee and migrant-led organisations network.



Masooma Torfa at the Advocate Europe Community Meeting in Belgrade, 2019


What have you learned? What did you take from your experience with RISE that you still use in your work today?
I've learned a lot – things that are difficult to put into words. It's been almost three years now since the very beginning. I've learned a lot about European asylum policies and the common European asylum system – a topic I am currently writing an academic article about. I also have a better understanding of how these policies are put into practice and of the structure and landscape of organisations active in the field. I know the role of each and every one. At the policy level, I also now understand the role of the donor organisations: their focus and how it is changing. If it weren't for RISE, I think I would have stayed at the very local level here in Stuttgart. I now have a vast perspective on the topic: that we need to understand and compare the local practical integration activities of the refugees at the local level, at the city level, to the national level for Germany, for example. When you go to Brussels, they are not talking about Stuttgart anymore – that's Germany. That's the point. You need to grasp all these levels. Through RISE, I set my focus more on the European asylum system – I even wrote an article on European Asylum policy using the expertise shared by the people from the different countries and the organisations at the national level and in Brussels. The topic of my research, my PhD, was definitively influenced by this work, of course.




"Some of the people were already active but didn't have registered organisations. I was one of those. I moved up from being an individual supporting member to co-founding my own organisation."



What were the biggest challenges you met in the implementation of the RISE project?

We created four different committees. But at the very beginning one of the big challenges was determining the roles and responsibilities: who does what and how to shape this project. And then to identify the organisations. And finally, to coordinate the whole network. I was the coordinator of the committee on Labour Market Integration of Refugees. We also conducted a study to bring all of it together. There are similar laws and rules from the EU's point of view. But when it comes to the individual national level, there are huge differences. And that was the challenge: to somehow bring people around the same table to talk about similar things that are somehow so different in each context. It was very time-consuming. Imagine talking about labour market integration, the challenges of the refugees and migrants from the different countries. It was very difficult to bring everyone to the same levels: levels of understanding, of opinions, etc. Also, because many of the organisations were very small or only starting out, it was difficult for them to actively engage in the topics we had selected. It needs a lot of time, resources, work. Of course, at the practical level, in their local area, they are active and helping refugees – but when it comes to the interplay with the European level, it's difficult. Because they come from different countries and live in different countries: there are issues with the language, the system. You cannot speak on behalf of a country! You need a lot of knowledge to have all the information on the country's laws. But we all learned a lot during these two years. It helped a lot of us to become much more active at the national level. I have seen many RISERs at conferences, at meetings. This is also a reason why it is so hard to get funding for RISE – everyone got even busier at their national level!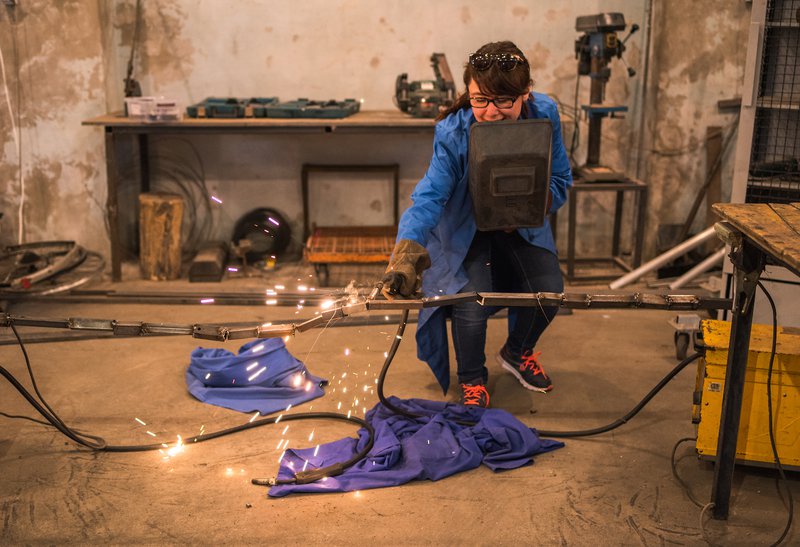 Masooma Torfa at the wielding workshop at the Advocate Europe Community meeting in Belgrade


Where there any unexpected side effects? Positive or negative things that were outcomes of the project?

I can only talk about the positive ones, because I can't see anything negative that came out of this network. The network has become much more than we initially planned. The interest was very high. Organisations and individuals are still showing interest – even though there is currently no project – I receive emails from organisations that would like to join. And I always say, "It's open, everyone is welcome! Come in – and when there is a meeting, when we have information, we'll share it with you." We have more than 50 organisations and individuals – activists, researchers – in the network now. So that was the first: The network didn't end when the funding ended. We also didn't think that new organisations would be founded. But people got empowered. People got the information and the inspiration to work like other organisations do. Through ECRE, there was a session in the European Commission – they asked there about RISE and we were invited to comment on resettlement policies, on how they are affecting the lives of the refugees. They wanted some practical examples. There are high expectations from RISE. We are recognised as consultants, as advocates. I myself am now a member of the Refugee Advocates Team of ECRE – and they got to know me through RISE. I also did a small consultation for an integration project by EPIM, a contact I also got though RISE. These are my own examples, but my colleagues experienced similar things, of course!


---
Masooma Torfa is a PhD candidate working on migration and currently conducting comparative research in Greece and Germany about Afghan and Syrian refugees. She is the founder of the NGO Female Fellows in Stuttgart and coordinator of a number of integration projects.