Foto credit: Christoph Stark


Over a metre high, the lettering stands on a high-rise in a rather gloomy and inhospitable area near the railway station. It's a strong symbol for the region struggling with many problems and the words "Glück auf!" also are a reminder of the Ruhr region's past as the most important energy supplier and the cradle of the German economic miracle. Newspapers even bore the headline "Oberhausen has a new landmark" after the illuminated letters were turned on at the end of 2018.

A landmark for Oberhausen

"This is a symbol of a real community feeling that has been missing here," says Agnieszka Wnuczak of the kitev Cultural Association, who planned and put up the illuminated letters together with her partner Christoph Stark. The two artists know a lot about symbols and new landmarks. When they came to Oberhausen by train from Berlin in 2006 for an art event, they saw the obviously empty station tower when they entered the city. "Such a great building, unused for years and left to decay, we couldn't accept it," says Agnieszka Wnuczak. They explored the tower, a spacious square brick building from the 1930s with four floors, two huge empty water tanks and a dilapidated station hall reminiscent of a festival hall with high, curved windows in the basement. The two artists asked representatives of (the city and) the Deutsche Bahn for permission to use the tower and received it. Kultur im Turm e.V. in short: "kitev" was born. The first official act of the new tower users in 2010, even before they had extensively renovated the building, was to repair the large station clock on the tower. Idle for far too long, they added multiple neon lights to the clocks that change colours. The citizens of Oberhausen were thrilled; time didn't seem to be standing still anymore in Oberhausen. That was the first symbol by kitev and also a cornerstone for all subsequent projects, such as Refugees for Co-Creative Cities sponsored by Advocate Europe. But more about that later...




"Everything revolved around the idea that there is a need here in a medium-sized, shrinking city that doesn't get attention like it does in a metropolis. This results in reciprocity, solidarity. Together with the locals and new arrivals we tried to find out: How can we bring our needs together? And how can we create a project with charisma for other countries? Because our challenges are typical for cities all over Europe."




Like a beehive

If you want to meet with Christoph Stark and Agnieszka Wnuczak, you have to be flexible and adapt to their bubbling energy and busy daily routine. The door to the Oberhausen train station tower is opened by one of the club's employees. She's a little out of breath because of the many stairs. There is no doorbell. Four floors up the stone stairs, past the association's beautifully renovated project rooms, up to the last floor you enter the studio and office of the two artists. The view from the old, large windows of kitev's office spans the entire city.
The artists' mobile phones keep ringing; new guests keep coming into the office all day long. Often one of the two has to go to their different project locations in Oberhausen to help with the bureaucracy or repair a broken water pipe. Almost every week, new ideas and project proposals are on the table that have to be financed, applications have to be written, important calls to the authorities have to be made. Their nine-month-old daughter also demands attention.

The rule at kitev is if you're cooking, you always cook a little more, because guests are fed at the same time. Of course, everyone knows one another; the association sees itself more like a large family than a hierarchical structure. Today Hakim, Raymond and Ahmad are visiting; all three were part of the Refugees for Co-Creative Cities project.



Foto credit: Christoph Stark


Urban development as a leitmotif
In addition to its strong focus on artistic projects, the association stands for urban development from the bottom up; the two founders also like to speak of "vertical urban development." They don't want to leave the city to its fate and the slowly grinding mills of politics, but to rebuild and tackle it themselves together with others, to plan together, to combine strengths, not to trust that others will eventually fix it. These are the basic rules of the association. "Oberhausen is a perfect place for us, there is so much to do here that it really makes sense," says Christoph Stark. It is this sense of purpose that drives him in his work and in his life. Unlike big cities like Berlin and Hamburg, art or social projects have to be searched for in Oberhausen with a magnifying glass. The city has long been a blank spot on the map when it comes to self-organization and urban development. There is plenty of need: the vacancy rate in the inner city is visibly high, many shops and offices in the pedestrian zones have empty windows. There are too few jobs; unemployment is just under ten percent. At the same time, many refugees who came to Oberhausen in 2015 lived in mass housing, were not allowed to work and were urgently looking for something to do, says Christoph Stark. This is when Wnuczak and Stark applied for support from Advocate Europe with their project by the name of Refugees for Co-Creative Cities. After submitting an initial idea sketch, kitev was placed on the shortlist and selected by the jury together with nine other winning projects.



"We were looking for rooms for our ideas, for our workshops. And we wanted to bring European themes and culture where they would otherwise never be. Because in Europe we all have to get involved"



The basic idea behind the application for Advocate Europe was to bring together the vacancies and the desire to work, to let people decide and shape their own lives, and to involve them instead of deciding their fates for them, says Christoph Stark. "Everything revolved around the idea that there is a need here in a medium-sized, shrinking city that doesn't get attention like it does in a metropolis. This results in reciprocity, solidarity. Together with the locals and new arrivals we tried to find out: How can we bring our needs together? And how can we create a project with charisma for other countries? Because our challenges are typical for cities all over Europe."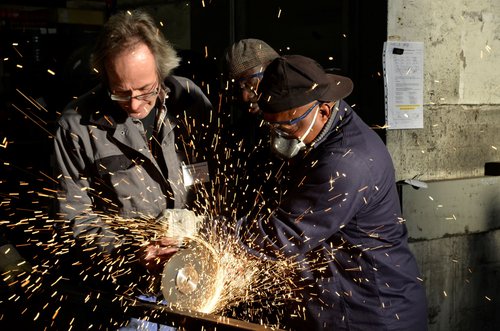 Foto credit: Christoph Stark
The Advocate idea challenge kicks off the project
Christoph Stark explains that the idea givers and consultants were partners from Slovenia and Finland who had already implemented similar projects. They had given extremely good input on how collaborative urban development works – and what it costs. Of course, money is also needed for such a project, for working time, materials, conversion and operating costs. The reference to the call for proposals at Advocate Europe also came from the European project partners. The project and its European orientation perfectly matched the requirements. The partners from Slovenia and Finland initially took over the consulting, website support and communication in 2016 and are still on board today, albeit on a smaller scale. After Advocate had agreed to support the implementation of concrete ideas and the selection of actual locations, some time passed. Agnieszka Wnuczak says that the network meetings through Advocate Europe helped a lot and that getting to know many interesting project representatives from other countries has been very important. This exchange helped turn vague ideas into realities. The support for the strategic approach was just as important, for example through working aids such as the Theory of Change, Agnieszka says.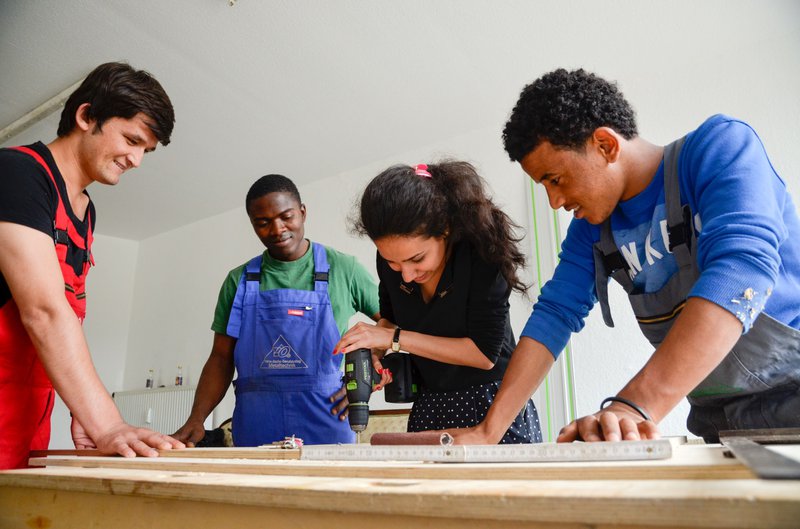 Foto credit: Christoph Stark

Eating and working together

Specifically, one of the ideas that emerged from Refugees for Co-Creative Cities is a mobile food truck, the Refugees' Kitchen. Here refugees from different nations like Syria, Afghanistan, Eritrea, Guinea or Turkey cook specialities from their homeland together and sell it from the mobile food truck for a small charge. People from different cultural backgrounds start to talk to each other and get to know each other. The truck itself is also a joint project: the car was converted into a mobile kitchen by refugees and professionals.

A second cornerstone of the project is the "Oberhaus" ("upper house"), the high-rise with the neon sign that says, "Diversity is our home."

"We looked out of our window in the station tower and saw this high-rise every day; it was in disrepute and was always in the newspaper. There was a flat on fire, or there were fisticuffs. And we thought we had to be able to do something with it," Agnieszka says.
The building was called the "junkie high-rise" by the people of Oberhausen. Many long-term unemployed, low-income and underprivileged people live here in small apartments; a maximum of 33 to 39 square metres. Almost a quarter of the living space was not used at that time. The façade and the interiors are dilapidated – the shops on the ground floor were empty for years. kitev moved in down there in 2016 and renovated the rooms together with refugees – a new cultural centre for Oberhausen was created and thus another milestone in the Refugees for Co-Creative Cities project.



"Work against fear – the Oberhauseners' fear of the foreign, the unknown. Each side has its fears; that's what we are trying to fight."


The "Unterhaus" ("lower house") as the users call the ground floor of the high-rise is painted in friendly colours, orange, red and light green. There is a small kitchen, a counter, cosy sofas and a large dining table in the middle of the main room, which is sometimes converted into a workbench. Posters and pictures by the painting course members hang on the walls. Every now and then residents of the flats come down to build something or have repairs done, but most of the users come from outside.

"We were looking for rooms for our ideas, for our workshops. And we wanted to bring European themes and culture where they would otherwise never be. Because in Europe we all have to get involved," says Christoph Stark. With all these ideas, one leitmotif is "Work against fear – the Oberhauseners' fear of the foreign, the unknown. Each side has its fears; that's what we are trying to fight." At some point, they hope, the whole house will be a place of community.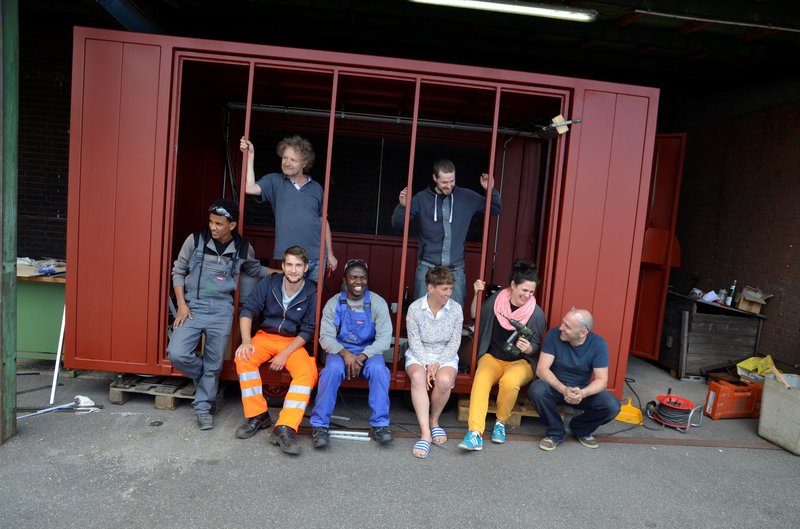 Foto credit: Christoph Stark

Workshops every day
Interested people can attend courses in the Unterhaus several times a week, from painting courses to dance and singing classes to film screenings and discussion rounds. Refugees meet Oberhausen locals; the workshops are mixed. From time to time, international network and citizens' meetings are held there dealing with the further development of the Oberhaus. For example, the entrance to the residential building is not easily accessible for the disabled, there are no bicycle racks (although most residents depend on bicycles), a caretaker wouldn't be a bad idea. These new ideas can gradually be implemented through a mixture of self-direction and subsidy financing. The renovated, empty flats are occupied by refugees escaping mass housing. In addition, more and more small apartments are being renovated and enlarged, and families should also be able to find a place here. The Vonovia housing association supports the association's projects, which is unusual considering the tense real estate situation. But everyone benefits from the cooperation. The house can become a successful example of urban community development in the long term.
But it would be too easy if that were all. At the beginning of the year, Agnieszka and Christoph founded the Free University Oberhausen with faculties mostly oriented towards urban policy (with titles like "Life and Ownership – Who owns the city?"), courses and seminars, attendance certificates and certificates of completion, all self-organized and free of charge. The seminars can be given by anyone who is particularly good at something or is particularly familiar with a topic. It's in great demand; the courses have already received several hundred registrations from refugees and original Oberhauseners. "Oberhausen is becoming a university town – that increases the value of the region again," says Christoph Stark.
The university is the most recent project by the association since Advocate Europe's sponsorship of Refugees for Co-Creative Cities. Of course, it has new funding and generous support from the city. The kitev makers also tour neighbouring European countries to tell other initiatives and associations their success story. It's a charismatic project – an example for all of Europe.


---
People of Oberhausen:

RAYMOND:
Raymond came to Oberhausen from Guinea in 2015. He converted an old truck into a modern food truck – working as a mechanic, electrician, painter and carpenter. These were completely new skills for him, but he learned a lot under professional guidance during the conversion. Today Raymond is training in construction and has just extended his right to stay. He absolutely wants to live in Oberhausen and not go to any other German city, says Raymond. "The people here are like my family," says Raymond.

HAKIM:
Hakim came to Germany from Afghanistan in 2015. He didn't know anybody. He didn't speak German. For a long time Hakim cooked Iranian, Afghan and Turkish food in the Refugees' Kitchen. He learned German and a lot about other cultures, he says. In addition, the trained tailor has sewn covers for all the upholstered furniture from old jeans: every chair, every armchair in the "Oberhaus" and in the station tower now has a blue jeans cover. "I think it's great that everyone contributes what they can," says Hakim.

AHMAD:
Ahmad came to Bochum from Syria in 2015. He often commutes to Oberhausen and calls kitev his new home. Ahmad had to drop out of law school in Syria when he escaped. He would like to study medicine here, but hasn't gotten a place yet. The collaboration in the renovation of the Oberhaus and the Refugees' Kitchen was his salvation, Ahmad says. He felt very alone and depressed after his arrival in Germany. His wartime experiences traumatized him; there were many problems among refugees in the mass accommodation. The Refugees for Co-Creative Cities project gave him back the feeling he has a future. "This is a tangible opportunity for me," says Ahmad. "You can try everything. Everyone is completely non-bureaucratic and open to you; this is incredibly important." In addition, Ahmad learned German while working in the kitchen and has just passed his German exam at university level.

KATRIN:
Katrin was born in Oberhausen and attends the painting course for women on Mondays and the culture café on Tuesdays. As an administrative worker she has hardly any contact with other cultures, and she especially enjoys the exchange with refugee women. "Even if it sounds hackneyed, I particularly appreciate the way this broadens my horizons," says Katrin. "I learn a great deal about other cultures and am amazed by the life stories some people here have had." She is now also taking part in the new university's debating club and wants to attend the seminar on how to build a 3D printer.