– Marian Goodman, Core Member of the Presencing Institute in South Africa and Advocate Europe Jury member



Five years of Advocating Europe
In 2014 MitOst, together with Liquid Democracy, began its work on the Advocate Europe idea challenge, an initiative imagined and funded by Stiftung Mercator. As the implementing partner, the Advocate Europe team set out to find, fund, connect and support ideas and people for a Europe of possibilities, co-created by diverse voices.

Advocate Europe firmly embraced diversity and democracy in Europe, built together by citizens, families, migrants, newcomers, and policy-makers alike. We confirmed that these actors exist across wider Europe, beyond established disciplines and conventional schools of thought. From Reykjavík to Ankara, from Porto to Helsinki, in cities and in rural areas: There are people who want to bring about change and to pursue innovative work on Europe.

Between 2014 and 2019 Advocate Europe brought together more than 1,600 ideas from 45 European countries, connected 54,070 people on our online platform and invested in 32 winning initiatives that pilot new approaches to our common European future. As an endeavour to foster and strengthen civil society innovation, Advocate Europe built an engaged network of more than 150 change makers, ready to stand up for a democratic Europe.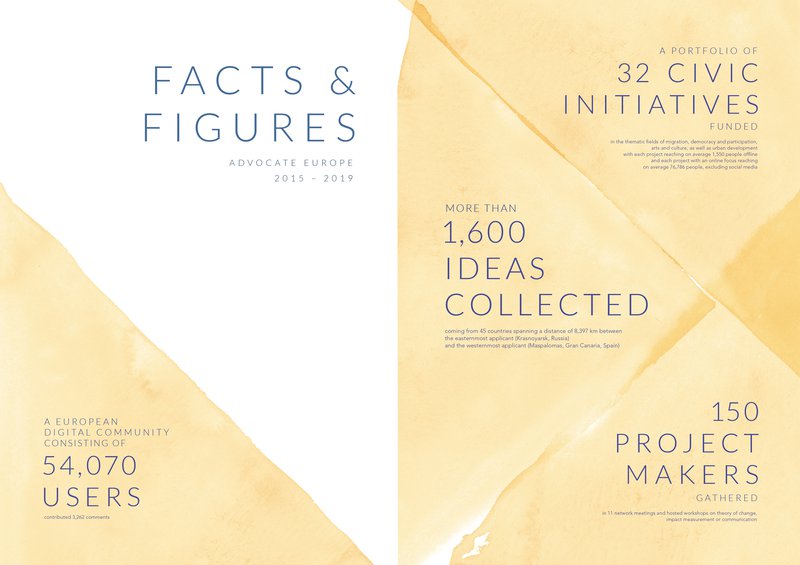 It created a remarkable portfolio of successful projects that showcase the creativity of civil society in responding to social challenges. For instance, there is Kitchen on the Run, a travelling kitchen container bringing together refugees and locals. Or the JobAct Europe program, enabling individuals to face the complex demands of unemployment through theatre. Another among many more is Democracy Fitness, a training concept enabling European citizens to build up democratic muscles in their local communities and thus strengthen civic involvement.


Advocate Europe comes to an end in December 2019. We are so grateful for five years of shaping the Europe we are dreaming of together. The idea challenge will continue, undergoing some changes in its direction, and Civic Europe will follow in its footsteps from 2020 onwards.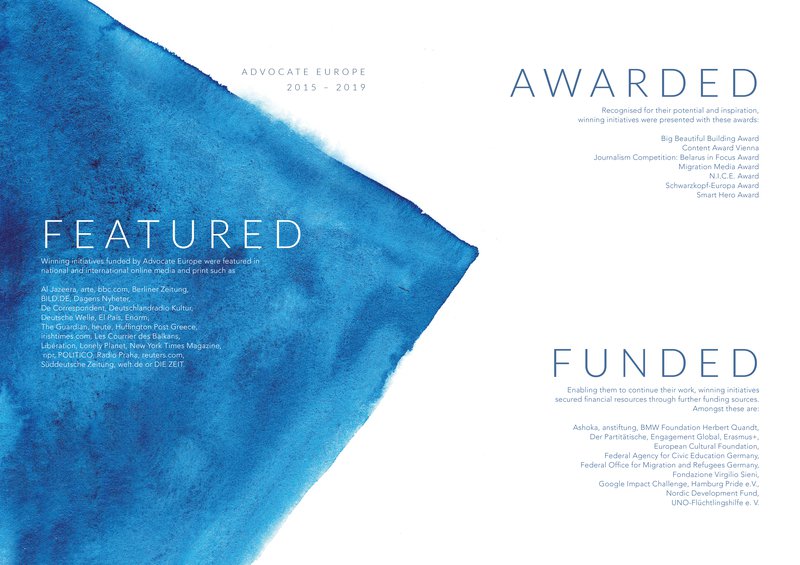 Transitioning Advocate Europe into Civic Europe focusing on civic cohesion on the local level in Central, Eastern and Southern Europe

Since 2014 Europe has changed – not necessarily for the better: From Brexit, to the rise of nationalist, populist parties and leaders – many factors point to disappointment with democracy. Citizens at large have lost faith in Europe's institutions and elites and their willingness to represent them and solve their problems. There is a growing sense of disconnection from the political process, which has become the fundament for populist movements not only in Europe, but worldwide.

As Maina Kiai recently stated, "perhaps civil society's most important contribution has been its ability to give people hope. This achievement may not quantifiable, but it is the starting point for every concrete success ... Without hope, there is no action and there is no change." The power of civil society lies in its capacity to remind citizens they have agency. That they can effectively bring about change and break out of powerlessness. They can directly experience that civic engagement is a far more effective way of making a difference than a protest vote or a social media post.

Civic Europe assumes that through civic action individuals, groups and initiatives can bring about social change, however locally they might be acting. By focusing on civic work on the local level, we believe that it is possible to restore citizens' connection with the civic life, hence begin to rebuild trust in democratic institutions and set alternatives to populist narratives.


The mission of the Civic Europe idea challenge and civic incubator is to find and support people, ideas and civil society organizations in Bulgaria, Croatia, Czech Republic, Greece, Hungary, Italy, Poland, Portugal, Romania, Slovakia, Slovenia, and Spain in their efforts to strengthen civic cohesion in their local communities. The programme is divided into two parts: on one hand, there will be an idea challenge very similar to Advocate Europe, on the other a capacity-building programme conducted locally by partner organisations. The new endeavour is a joint initiative of several NGOs from the impact region, lead by MitOst and Sofia Platform, and funded by Stiftung Mercator.

Our work is inherently embedded in a European value-set. Starting locally, and growing towards exchange, cooperation and networking amongst others, it is through the cooperation on a cross-national, European level that we will find joint answers and collective solutions for our challenges.


Curious?
Do you want to know more about the eligibility criteria, the application process or the timeline of the idea challenge? Stay tuned with our Newsletter and keep an eye on our Facebook page and Twitter Channel! More information will follow soon.